MOPAS XS Polisher
High Performance Paint Cross Section Making
The MOPAS polisher is a device for making highly polished surfaces of embedded paint cross-sections. It was developed to avoid the accumulation of resin films on the polished surface caused by keeping the resin block between your fingers on the "sand" paper and/or polishing cloths. The MOPAS polisher clamps the sample block in a jig. That way the block can't move or change position with respect to the rough polishing material. This ensures clean cuts and great final polish.
 MOPAS  Cross section Polishing Holder
Hand polishing of embedded paint block leads to uneven cross-section surfaces unfit for advanced microscopic spectroscopy. The Molecular Painting Studies Group (MOPAS) at AMOLF developed a resin block holder for an improved polished surface using dry polishing technique on Micromesh clothes. The CPH is also suitable for making thin sections up to about 15 micron.
The present generation MOPAS CPH7 is now available for sale from JAAP Enterprise. Conservation and Art Research Departments in museums and institutions in Europe, America and Australia are using it now.
Improvements are reported in imaging Fourier Transform micro-spectroscopy (micro-FTIR), Raman micro-spectroscopy, secondary ion mass spectroscopy, Xray Photoelectron spectroscopy (XPS) and antibody-mediated surface analysis.
MOPAS CPH7 has 5 exchangeable jigs for different resin block morphologies. The fine regulation of the feed system makes micrometer advancing possible. The ceramic ring keeps the resin block surface level with respect to the Micromesh cloth.
Top view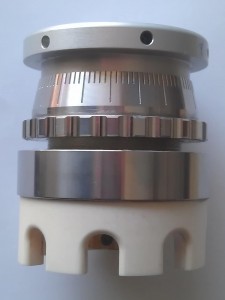 The central hole gives access to the screw that fastens the jig at the bottom. The holes marked with 1, 2 or 3 dots give access to screws that adjust the angle of the jig. The other holes contain the spring that keeps the jig in position.
The ceramic crown hardness 9 is the contact with the sanding and polishing surface. The ring fixes the position of the lower part of the polisher with respect to the resin sample block.
 Side view
Bottom view
Embedded samples are mounted in the jig with positioning screws. The position of the sample block surface is set by adjusting the position of the ceramic ring. For grinding position, about 50 microns above the plane determined by the ceramic feet is best. For polishing the ceramic ring position must be fixed before moving from 4000 via 6000 to 8000 or 12 000 mesh polishing cloths.
Five different jigs are available:
a. flat for glue mounting (out of stock)
b. square resin block mounting
c. round resin block mounting
d. Easysection ™ mounting (out of stock)
e. thin resin block mounting
Jig b and e are standard delivery
Special dedicated jig can be designed upon request.
Tips for best results:
Request PDF Do's and Don'ts in polishing with the CPH7
Micromesh polishing cloths give the best results. Use 15 cm wide cloth either square or rectangular (15×20 cm). Micromesh cloths can be ordered from JAAP Enterprise.
Users: Conservators and Research Labs in Europe, USA, Asia and Australia:
NL: Rijksmuseum Amsterdam (2x); Mauritshuis The Hague; Frans Hals Museum Haarlem; Rijksdienst Cultureel Erfgoed Amsterdam; several private conservators.
UK: National Gallery London; Courtauld Institute of Art London; Conservation Dept U of Northumbria; Art Access and Research London.
D: Doerner Institute Munich; Bayerisches Landesamt fur Denkmahl Plege Munich; Restauration Dept. Technical University Munich
F: Louvre C2RMF; OSE Services Paris
DK: SMK Kopenhagen
N: IAKH Conservation Oslo; National Museum Oslo; private conservators
B: KIK-IRPA Brussels
CH: SIK-ISEA Zurich; HKB Bern
P: Universidade Nuova Lisboa Lisbon
M: University of Malta
I: CNR, Roma
USA: National Gallery of Art Washington (2x); Metropolitan Museum New York; MOMA New York; Art Institute of Chicago; Library of Congress Washington; University of Brooklyn New York; NU-ACCESS Chicago; Winterthur – University of Delaware Conservation Program; Conservation Dept Buffalo State College (Buffalo NY)
Australia: University of Technology Sydney
China: LCSD Museums (Conservation) Hong Kong; The Palace Museum, Beijing