MOPAS High Stability XYZ-Stands
XY-Stands have been developed for high magnification light microscopy and analytical spectroscopy like FTIR and Raman, or XRF spot and profiling studies. The design ensures easy access to flat surfaces in horizontal position like paintings, engravings, illuminated books. Larger paintings or objects are studied in situ using a mobile stand system equipped with axes for vertical examination.
A key feature is the fast and accurate positioning of microscope, camera or spectroscopic device. Art work and microscope in one unit garantees minimal vibrations
Stand system are always developed in consultation with our clients since they often have special requirements. Ordering here or via our associated partners.
We have developed UV led lighting and dark field lighting for Hirox microscopy (lens 2016). Brackets have been designed for XRF equipment used on our stands.
MOP-DB double platform bridge design on mobile table installed
at Van Gogh Museum Amsterdam.
MOPAS stands are available for horizontal examination (XY), vertical examination (XZ) of flat surfaces and objects. Mounted on specially designed tables for mobile use or stationary in the studio or laboratory.
There are several designs tested in the field:
MOP-T: MOPAS T-stand  on gliders on rail platform. Air plane friendly and full portable.
MOP-C: MOPAS Cube stand for horizontal and vertical inspection riding on rail platform or table.
MOP-B: MOPAS single Bridge on wheels riding on rail platform or table.
MOP-DB: MOPAS Double platform bridge for rapid positioning and fine positioning riding on rail platform or table.
MOP-T portable T-stand set-up at AIC Conference in Miami (2015):
Stands for horizontal observation
The principle of the XY- stand is the free or controlled movement over rail profiles of an inverted T-frame or a cage that accommodates the microscope camera. The microscope mounting-pole is moved with micrometer precision in the X or Y direction. The movement in the Z-direction necessary for focusing is done with the microscope mounting block that holds the camera. The Hirox motorized microscope moving block can make steps of 50 nm in the Z-direction.
Excellent digital light microscopy has been achieved with the Hirox digital microscope models KH-7700 and KH-8700 using long distance zoom objectives or the revolving zoom objective for high magnification work (see  www.hirox-europe.com)
Paintings or prints are studied with preference horizontally. The microscope camera is positioned in X and Y above the artwork with micrometric precision. The movement is either performed manually with a hand-wheel, with an electronic motorized wheel controlled with a fast or adjustable slow speed or with stepper motors.
The standard playing field is 75 x 85 cm or longer dependent on the length of the rail profile.  The motorisation of the X movement is perfect for direct tiling or stitching of microphotographs of the painting surface at slow motor speed. Restorers love the video footage option.
The movement in the Y direction can be manual by moving the cage or using a micrometer precision bar element equipped with a hand-wheel. Here two principles are used. Either the whole setup is moved at high precision in the Y direction (MOP-B design) or we micro-move only the top part of the cage-cart combination (MOP-DB design). In the latter setup, the cage is adjustably fixed to a lower cart that moves freely over the length of the rails. This setup is especially useful for very large paintings in horizontal position. When the right position has been reached, the cart is fixed and the cage is unlocked to enable fine movements in Y.
 Building a bridge over the Rothko painting at Tate. Cage-carriage of MOP-DB design is moved over the overpass bridge to the desired position for restoration.
Stands for vertical observation
Paintings like wall paintings or very large size are studied while the camera cage is mounted on a free movable table. The camera is then mounted on a cross bar system which allows adjusting in the X and Z direction. In this position the camera and art work move independently with respect to each depending on the degree of external vibrations.
Stands for high objects
Object like sculptures can be studied horizontally using a high cage structure which is placed over the object. Complex topography is often studied using a rotary mirror setup mounted on the lens. This was the topography can be examined sideways.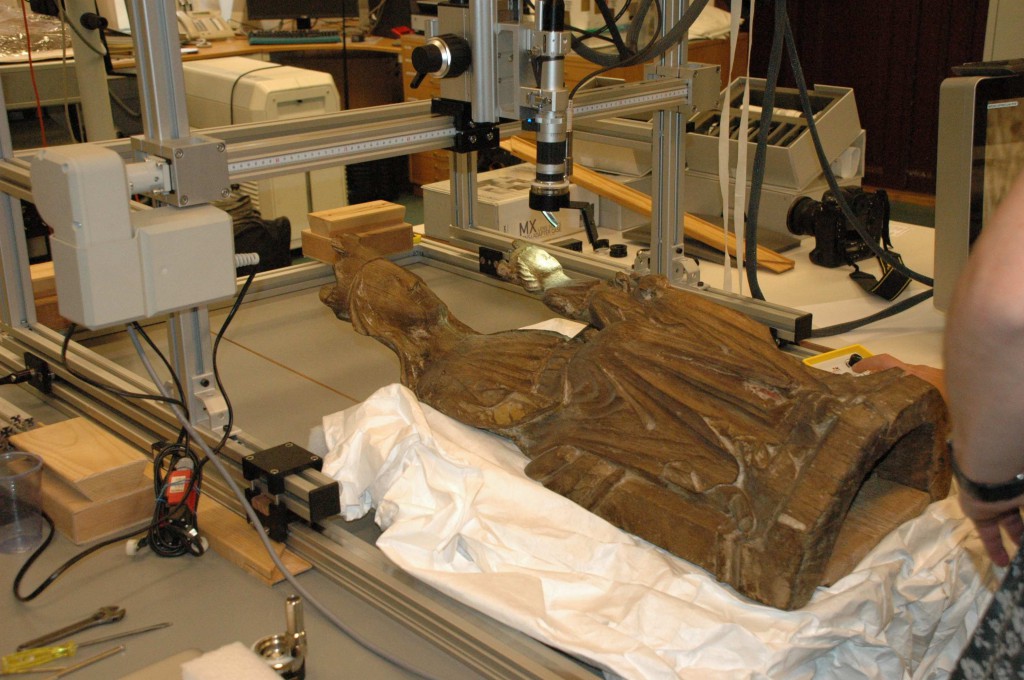 Large or very heavy sculptures are examined in vertical mode using  X and Z movement with micrometric precision bars to move and position the microscope camera.
Mobile stand systems
The mobile table stand system with large cage was developed to assist the vetting committee at TEFAF in Maastricht during the 2013 and 2014 exhibitions. The mounting on a movable table made it possible to take the microscopy system to any place on the premises. A mobile MOPAS system for painting studies has been installed in Ghent to assist the restoration team of the Ghent Altar Piece by van Eyck.
Mobile MOP-C High Cage stand for vertical examination.
Reachable height up to 3 meter at Tate Gallery London